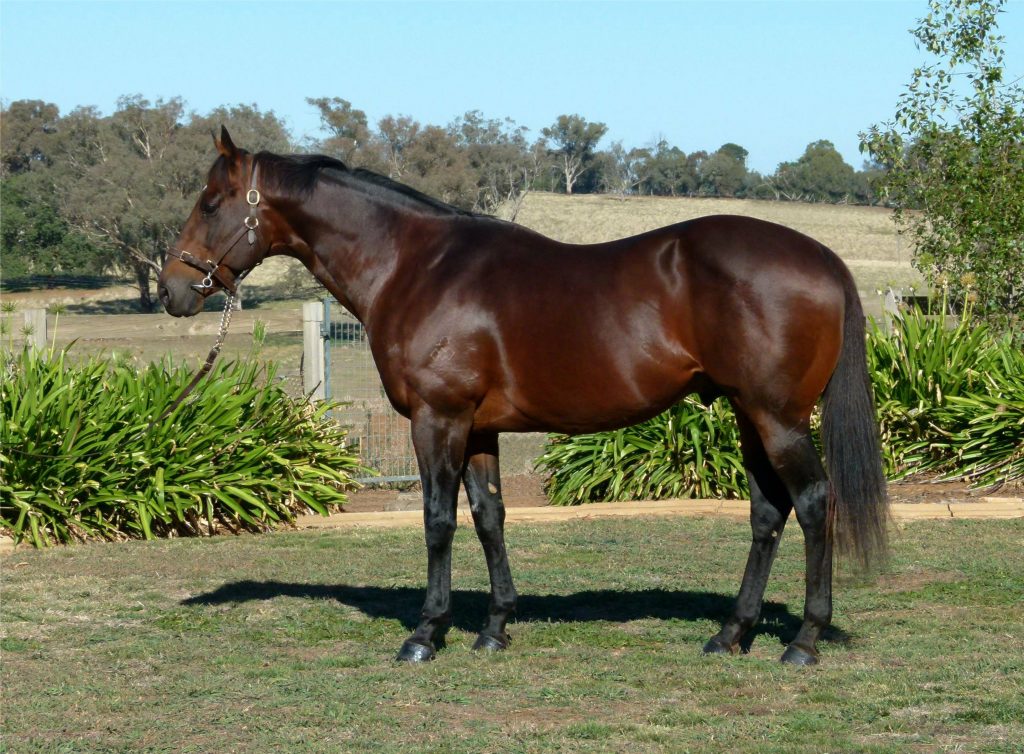 Stamina, agility, attitude
Sire of 71 Winners
Stakes Won $131,215.00
1st STC Heritage Stakes LR Rosehill 1300m
(defeated Dangerous Whistler and Align)
1st AJC Cabramatta Club H, Warwick Farm 100m
(defeated Easy Rocking and Fairway)
2nd Tatts Roman Consul Stakes G-3
(won by Easy Rocking, defeated Commands and Dangerous)
4th AJC Stan Fox Stakes G-2 1400m
(to Pins, Hire and Easy Rocking)
5th AJC San Domencio Stakes, G2 Randwick 1100m
Stud Record
MARECHAL* entered stud in 2001. He is the Sire of 144 runners, 73 winners (50%). Earnings of $3.5 Million, 1 stakes Winner including –
GRAND DUELS (Dam by Ifrad* Grandam by Cheraw*)
10 wins $794,610 VRC Kensington S-L, Auries Star H-L, 2d VRC Bobbie Lewis H-G3,3d VRC Newmarket H-G1, Lightning SG-1
GIRLS GO RACING (Charnwood Forest*; Sovereign Red)
9 wins $287,560,ATC Envirobank Recycling H, Fairfax Community Newspapers H, Pluck at Vinery H, STC Teachers Eyecare H, 3d ATC Fujitsu Air Conditioning H
PAGAN COUNTY (County*; Aurelis*)
6 wins $114,550 BTC OAMPS Insurance Brokers H, QTC Southeast Fasteners H, Peter Reid's Birthday H., 2d BTC Beaurepaires 2YO H
KLISH KLASH (Pauillac; Ksar*)
6 wins $75,470 AJC Manawapoi H, 2d AJC Might and Power H, STC Landsdowne Hotel H, Jurox Pty Ltd H, 3d STC Great Food at the Freeway H
GANDALF THE WHITE (Kala Dancer; Proud Knight)
6 wins $121,640 STC Hyland Racing Colours H
ERIPSNI (Sir Dapper; Longrow)
6 wins $120,890 BRC Celebrate Life in Pink Conditions H
GREEDY (Canny Lad; Prince Pherozshah)
2 wins, BRC QHA Hotel Care H., 3d BRC Sky Racing World H
PRINCESS ALLY MAE  (Loosen Up; Down the Cellar)
1 win SAJC Classic Timber Furniture P., 3d SAJC Chrysler Jeep H
WATERFRONT DRAMA (Covetous; Star Way)
13 wins $92,200  3d STC Parramatta Leagues Club H
DISREPUTE (Snippets; Namnan)
9 wins $101,340, 3d AJC Tattersalls Club Sprint H.
CULTURE WARRIOR (Yeats*; Zedative)
4 wins, 2d AJC Lurnea H
FORCING THRU (King Ivor; Grey Dawn)
4 wins, 3d AJC Equal 2YO H.
MAREDAMAH (Mukaddamah; Biscay)
2 wins, 2d BTC Bernborough Club 2YO H., QTC Lyndhurst Stud H
KOOLKANNA ROAD (Brondesbury; Mikado)
11 wins $84,732 at Adelaide River, Ceduna, Darwin, Port Lincoln & North Shields, Streaky Bay
GRANITE BLUFF (Chiefs Crow; Colours Flying)
10 wins $170,305 at Canberra, Coonabarabran, Dubbo, Forbes, Moruya, Orange, Queanbeyan, Sapphire Coast
CHATTERCHIC (Snippets; Namnan)
9 wins $125,785 at Bathurst, Dubbo, Gilgandra, Orange, Parkes, Warren
OUR HENRY (Covetous; Star Way)
9 wins $75,320 at Bairnsdale, Buchan & Gelantipy RC, Edenhope, Ome, Sapphire, Tambo Valley, Warnambool
CENTURY HILL (Euclase; Vain)
8 wins at Alice Springs, Bordertown.
MISE EN SCENE (Scenic; Zamazaan)
6 wins at King Island, King Island RC.
BEAR CLUB (Scenic; Lombard)
6 wins Cessnock, Gunnedah, Muswellbrook, Quirindi, Tamworth and Taree
CHOSEN TIME (Octagonal; Twig Moss)
5 wins $77,695 at Canberra, Queanbeyan.
MARCHEVAL (Splendent; Le Cordonnier)
5 wins at Gundagai, Adelong, Muswellbrook, Orange, Wellington
MICHAELS GIFT (Dom Cimarosa; Selhurst).
5 wins at Goulburn, Sapphire, Sapphire Coast
FLIGHT OFFICER (Alquoz; Lomond)
5 wins at Mallawa, Talmoi.
GERONIMO (King's High; Without Fear)
5 wins $128,393 in Singapore
KING KARENA (Speeding Fine; Star Shower)
4 wins at Barcaldine, Barcoo, Betoota and Corfield
GROOVER GIRL (Brief Truce; Vice Regal)
4 wins at Grafton, Gulgong, Mallawa & Quirindi.
MARECHAL'S HONOUR (Carry the Crown; Whiskey Road).
3 wins at Queanbeyan, Woolamai.
CHIEF'S TROPHY (Chief's Crown; Colours Flying)
3 wins at Braidwood, Nowra & Queanbeyan.
MILITARY WALTZ (Favoured Bay; And Behold).
3 wins at Nyngan, Parkes & Warren.
Maternal Grandsire
R.B. CHESNE
Group 2 winner, 3 wins, Doncaster Champagne S.-G2, Newbury Washington Singer S.-L, 2d Doncaster Park S.-L,
3d Sandown Westbury S-G3. Sire of the winners of over $910,000, 7 stakes winners, 11 stakes placegetters.
Broodmare sire of the winners of over $10 million
4 Stakes Winners including:
SKALLET, LAURICA, MARECHAL, PIBARNON etc
Female Line
DAM GOURETTE
By R.B Chesne. Placed, 3d Saint-Cloud Prix Tertulien. Half Sister to Pougatchof, Lady of Camelot (dam of KNIGHTHOOD) Soeur d'Arthur
Dam of 9 foals, all raced 5 winners including:
MARECHALl (by Danzero). See above
BRIGADIER FOREVER (by Geiger Counter)
7 wins $98,950.00 1200-1400m BTC Treasury Casino 2YO H, Showdown H, QTC  Ericsson H,
4th Tamworth JC Prime Television H-L
COUNTER STRIKE (by Geiger Counter)
6 wins 1100-1800m  STC Lakemba H, 2d WATC Stewards Conference H
THE MISSUS (f.by Danzero)
2 wins 800-1100m. Dam of:
ALL MY ANGELS
4 wins 1100-1300m to 2013/2014, BRC Bemborough Club H,2d BRC BNB Fresh H
LADY DANETTE f.(by Danehill)
Placed. Dam of;
JUST A KISEKI (by Fuji Kiseki)
6 wins $115,999 1600-2400m, WATC ATA S-L. Producer
MR TRICKSTER (by Brocco)
5 wins $280,600 1400-2000m VRC Four 'n Twenty S-L, MRC Victoria Gold Cup-L, 3d MVRC Alister Clark S-G2, 4th VRC Australian Cup, GR 1,
VATC Sandown Guineas GR 2
BRAZEN HUSSEY (by Hussoner)
6 wins $175,631 1000-1300m MRC Sapphire H, MVRC CFMEU & FFTS H, MRC May H, Betfair H, 2d SAJC Dequetteville S-L
UNRESTRAINED
6 wins 1400-1900m, STC APN Outdoor H
LADY KISEKI
3 wins 1500- 2400m, WATC Dual Cidium H, 2d WATC Todtona H, Super Impose H, Producer.
STATTON
Winner at 2 1200m in 2013/2014, ATC Big Sports Breakfast H
2ND DAM
IGRAINE (by Round Table) Unraced. Half Sister to:
ETHNARCH, REALTY (dam of REALLY LUCKY) SAVINGS, BREAKFAST BELL (dam of BELIEVE IT, IT"S TRUE) SIR GAYLORD'S LADY
POUGATCHOF (Impressive)
Winner at 2, Maisons- Laffitte Prix la Gosse, 2d Newmarket July S-G3, 4th Deauville Prix la Rochette G-3, Prix des Foals L
LADY OF CAMELOT (by Bolkonski)
2 wins, Saint-Cloud de la Vastine, 3d Prix le Rois Soleil LR.
Dam of:
KNIGHTHOOD (by Vitiges)
5 wins 1300m in France and USA. Santa Anita Baldwin S-L, 2d Pimlico Woodlawn SG-3
SOEUR D ARTHUR (by Mon Fils)
2 wins, 2d Louisiana Sooner H-L.
3RD DAM
REVEILLE
7 wins, VATC 1000 Guineas, AJC Warwick S, Flight S.
Three quater sister to the dams of:
SKIRNIR,
QTC Sires Produce
BOLDNESS, Dam of 12 foals, 8 raced, 7 winners including:
Dam of 9 foals, 8 raced 5 winners including:
REALTY
7 wins Prix du Gros-Chene G3, Prix du Petit Couvert G3
Dam of:
REALLY LUCKY grandam of RAVINELLA, Champion 2YO Filly in Europe
LINE IN THE SAND
ETHNARCH
5 wins $155,460.00, Display H-G3
SAVINGS
3 wins Derby Trial S-G3
BREAKFAST BELL
4 wins 3d Jersey Bell H-G3
Dam of:
BELIEVE IT
Wood Memorial S-G1, 3d Kentucky Derby G, Preakness S-G1 successful sire.
IT"S TRUE
Louisiana Downs H-LR
Marechal stands at Argyle Thoroughbreds. Fee $2,200 inc gst
Enquiries: Louise Ellis. Mobile 0427 899 827.
Phone/fax: (02) 6366 4234. Email: argyle_thbreds@bigpond.com
Click here to print full bloodlines
Click for Marechal Progeny Gallery